Positive motivation advanced obedience for persons wishing to compete or non-competitive persons wishing to improve and expand skills.
You're not done yet! Impress your neighbors! Have the best behaved dog on the block. Remember, a trained dog is a happy dog and belongs to a happy owner!
Skills taught: Off-leash heeling, Off leash distance sits and downs, Out of sight and high distraction stays, Hand signals, Stand for grooming, Precision fronts, Precise finishes, High Jump, Broad jump, Retrieve on command, Tricks (spin, play dead).
$210 at CPT-Sandy Springs. 8 one-hour weekly meetings.
Prerequisites: Intermediate Obedience or instructor's approval.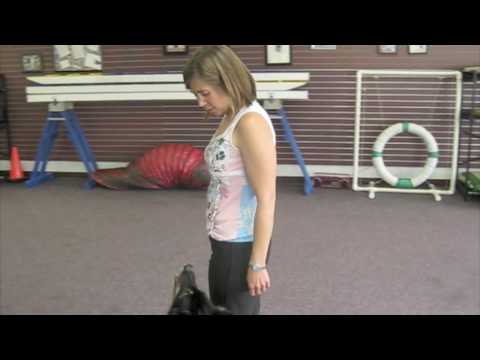 CPT Trainer Karen Smalley working with her personal dog Casey, a 10-year old Border Collie. Casey achieved his AKC Utility (U.D.) title with three first place finishes. In this video, Karen and Casey demonstrate various pet obedience, competition obedience, and agility exercises. Notice Casey's attitude, attention, speed, and precision!
* All CPT Courses require pre-registration. Payments to CPT are non-refundable. CPT closes classes to further registration after 12 dogs enroll.